2022-2023 Undergraduate Catalog
[ARCHIVED CATALOG]
2022-2023 Undergraduate Catalog
---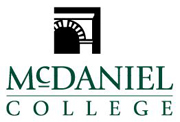 Welcome to the McDaniel College Undergraduate catalog. To learn about the College's comprehensive liberal-arts undergraduate education, The McDaniel Plan, click on "Degree and McDaniel Plan Requirements." You may search this site using keywords or by clicking on the section heads located to the right. To review the Graduate and Professional Studies catalog, please select from the drop-out listing at the top right of this page and click the "go" button. You may refer questions to the Office of the Registrar by calling 410-857-2755.
Offices of Admission

 
 

Undergraduate Admission

Graduate Admission

Carroll Hall
McDaniel College
410-857-2230 or (toll-free) 800-638-5005
E-mail: admissions@mcdaniel.edu
www.mcdaniel.edu/admissions

Carroll Hall
McDaniel College
410-857-2230 or (toll-free) 800-638-5005
E-mail: admissions@mcdaniel.edu
www.mcdaniel.edu/graduate-admissions
 
 

Office of Financial Aid

 
Rouzer Hall, ground floor
410-857-2233
E-mail: finaid@mcdaniel.edu
 

Visit our web site
Accreditation
McDaniel College is accredited by the Middle States Commission on Higher Education (MSCHE), 1007 North Orange Street, 4th Floor, MB #166, Wilmington, DE 19801. MSCHE is an institutional accrediting agency recognized by the U.S. Secretary of Education and the Commission of Recognition of Postsecondary Accreditation.  Accreditation was first granted in 1922, with the last reaffirmation occurring in 2013. The next reaffirmation cycle takes place in 2022-2023.

Also accredited by:
American Chemical Society
Council on Social Work Education
National Council for the Accreditation of Teacher Education/Council for the Accreditation of Educator Preparation
Maryland State Department of Education
The College reserves the right and authority to change any programs, policies, requirements, or regulations published in this catalog. Students are responsible for keeping informed of official policies and regulations and for meeting all appropriate requirements.
McDaniel College supports equal opportunity in admissions, education, employment, housing, and use of facilities by prohibiting discrimination in those areas based on age, color, disability, marital status, national origin, race, religion or creed, sex or gender, gender identity and gender expression, sexual orientation, veteran status, or any other basis in law. This policy implements state and federal laws (including Title IX); inquiries about it should be directed to the Director of Human Resources.
---